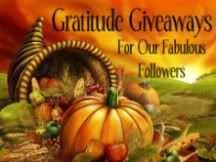 For the Gratitude Give-away I'll be raffling off signed copies of "No Date for Gomez!" Those familiar with my work will know that this novelette is not available for purchase anywhere. I originally wrote it as a companion story to "No Hope for Gomez!" to use for marketing purposes. For this give-away I have revived it through a one-time printing.
Excerpt:

"Ran into Gretchen in the hallway. My head was buzzing with thoughts, but when I looked into those hazel eyes, everything went quiet. It was like a power outage in my brain. All synaptic activity slowed and my inner voice went dead. In fact, I wasn't even entirely sure I was still there.

I could remember talking to people. Knowing the kinds of things one said in polite conversation. I could remember making people think and laugh, but, at that very moment, I couldn't put my finger on any of the words one might use when running into a fellow human being in a hallway.

Gretchen smiled and said, "Hi!"
Which was one of the words one might use.
"How are you doing today?"
Which, I now recalled, was a bunch of others."


More information on this weird story can be found
here
, but then, why would you need more information?
So, just sign up as a member of this new blog and you are automatically eligible to win a signed copy of "No Date for Gomez!"
Click here for more Gratitude Giveaways!
Oh, and don't forget to check out the Gomez BirdDay event and win a Kindle or iPod. See previous post!